Here is the 18wk pic we took yesterday. I'm beginning to feel like I look huge. Too bad a lady at my office yesterday asked when I was going to start growing already LOL If she only saw these pics instead of me in my scrubs (that hide A LOT of growth) she might be changing her tune :)
And here are the uber cute pics of olive that we got yesterday :) Batman was pretty excited to see them and was amazed at some of the "detail" we could see!
This first one is the best profile shot we got of olive: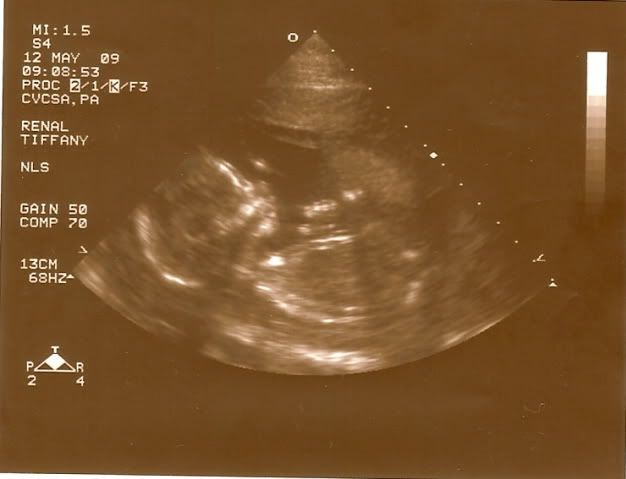 This is a pic with the little hands all balled up in fists and the knees pulled way up: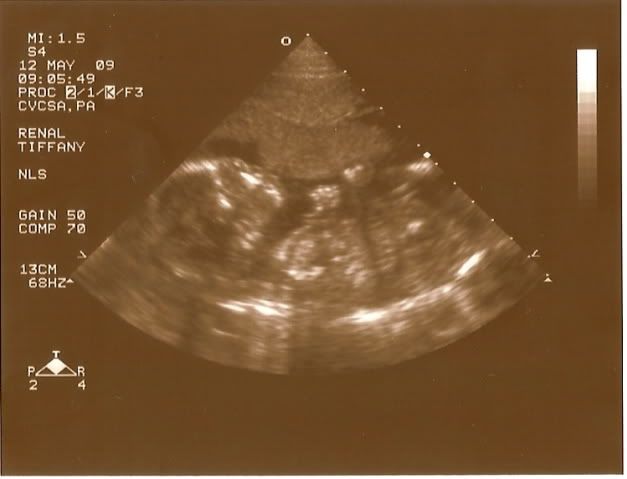 This one is of olive waving hello!
And this one is of olive's shoulder arm and leg (all scrunched up):
I've been feeling really good the last couple weeks. I haven't had any bouts of m/s which makes me EXTREMELY happy. I'm still having some aversions to smells (this morning taking out the garbage was just too much and the dry heaves started) but other than that I am really doing well. Based on my scale I'm up about 3 lbs from my last appt [overall 4lbs] (but their's usually weighs me a couple lbs heavier) although I feel like it should be more since I eat so damn much LOL We go in on the 22nd for our "big reveal" u/s with my OB. I'm kind of nervous for it since our last 20 wk u/s was so terrible. I guess that's to be expected. Yesterday's u/s really did help a lot with my nerves. It was nice to see Olive in there, moving all over, without having to think about "is something wrong" "is it measuring on time" "is there enough fluid" which are all things I've been thinking over and over for the last 18 wks!
I can't wait for next week!