First a shout out to my online friend Crystal who had her baby boy yesterday!! Congrats sweetie!! He is just the cutest little guy I have EVER seen!! I can't wait to hear her full birth story!
Here is this week's belly pic: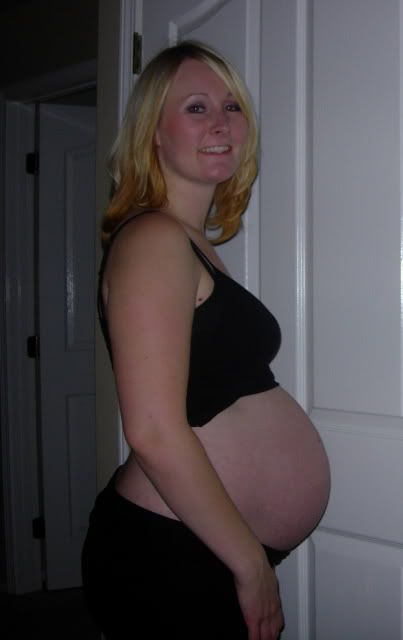 The belly has really taken on a life of its own. I had no idea I could even GET this big... and it looks like it won't be slowing down anytime soon! EEK!
Long gone are the days of even this stomach ;-) And I wasn't even in very good shape back then (5wk pic from BFP day).
Someday I'll get back there though, right? With some hard work and a good diet, right? Right? RIGHT?
I've been feeling pretty good over the last couple weeks. PT has been going great and has really helped with back pain. I am having the typical 3T woes of leg cramps, heartburn, inability to sleep, etc. but I'm taking it all in stride and TRYING not to complain too much. I know Olive is just growing like a weed in there :) (she's the
size of a cabbage
now?)
I'm hoping to get the tech at my office to do another u/s this week sometime and see if Olive is still breech- she was as of 2 weeks ago (did I ever post those u/s pics? I can't remember- if not let me know and I will- we got an uber cute one of her "smiling") I keep getting kicked in the same places so I doubt she has turned. I'm not too worried yet. And have you noticed the ticker? 69 days? WHAT?
I have no idea where my weight gain is these days, but I'm guessing somewhere between 25-30 lbs at this point. I'm fine with it as long as my doc is fine with it. Which he was at my last appt. That's about it though ;-)
Some follow-up on your comments- Thanks so much for liking the nursery colors and dust ruffle. I should have curtains finished by the end of the week, I think - for Erika we got the paint at
Kelly Moore
and the color is technically called "green shirt" as they matched it to a shirt I dyed. I couldn't find any fabric in the color green I wanted for Olive's bedding so the lady at
Hancock's
convinced me I could dye my own to get the color I wanted. The color of the dye is called spring green and is made by
Dylon
For Jenny- the only hint I can give out about Olive's name is that her initials are BMW- hence the "beamer" onesie I made for Batman for Father's Day ;-)